To paraphrase a nursery rhyme: "Astrid, Astrid, quite contrary, how does your garden grow?"
Well, let me tell you – it grows GOOD!!!
May and June have been exquisite this year! I have walked through my garden in the mornings and evenings and honestly, it's enough to make you sigh!
The first photo highlights the vortex garden last week: (from left to right) my Weigela bush in bloom, variegated Karl Forster grass coming up strong, bright orange poppies, really fat, healthy sedum beside fragrant Sweet Cecily and purple Salvia in the background.
All that rain we had in May has made my plants huge – they look like they're on steroids! For example, my Salvia nemorosa "Ostfriesland" that you just saw is usually about one foot high but this year it's up 2 feet. Many of my others are the same – the miniature daylilies, Sedum 'Autumn Joy', Lady's Mantle, etc. Much taller than usual. Things have already changed drastically, though – now we're getting maybe one night of rain per week, if that. The weather predictors say that summer will be hot and dry and they may be right, so I plan on staying vigilant with my watering and putting on a thick layer of shredded mulch before the end of the month.
May started out beautifully with many gorgeous bulbs coming up. Remember I said I was going to re-vamp my bulbs? Well I did and most came up very nicely. The rabbits and squirrels chewed off quite a few and others were very distorted and weird looking for some reason, but in general, spring was bulb-glorious!! One of my favourites was a dainty, tiny daffodil named 'Hawera', which had several tiny heads per stem. I'm sure I planted some 20 years ago when we first moved here but I lost them long ago. Sure glad I gave 'Hawera' another chance. Here's a link with a photo:
The other unexpected surprise was that my 3 giant allium had spread across the front yard bed and had multiplied into at least 12!! I cut some of these "pom pom flowers", as one of my co-workers called them, and worked them into a large vase arrangement for work. Here's what the giant allium can look like:
I couldn't find a lot of the ones mentioned in my September diary (see Archives) so I substituted. Many were similar, so it worked out fine. Other favourites included 6" daffodil "Jack Snipe", double early tulip "Angelique", and frilly tulip "Black Parrot".
I bought a few of the newest perennials mentioned in my gardening magazines: Dicentra Formosa 'King of Hearts' ,
Dianthus 'Feuerhexe (Fire Witch)'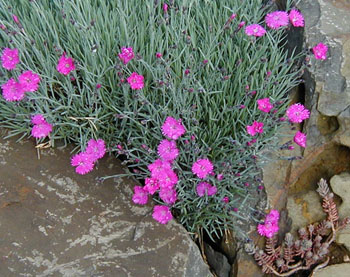 And Heuchera 'Silver Scrolls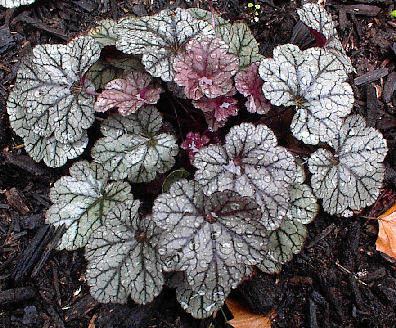 I hope they enjoy a long life in my garden. (So far, the stupid rabbits haven't eaten them – a good sign!).
Several of my hosta have reached what I would consider full size and they are so wonderful – I especially love 'Great Expectations' which photographs well besides its neighbours, a golden Euonymus, a dark green spreading Juniper and feverfew.
My Siberian Iris were plentiful enough for quite a few vase arrangements and in a tucked-away bed I almost missed how pretty they looked with little allium moly.
The Vortex bed is so lush and full, I can hardly find the flagstone walkway! I'll have to do quite a bit of splitting and plant rearranging in the fall. The Weigela bush was absolutely gorgeous after an excellent spring pruning. We even saw a few hummingbirds sticking their long beaks into the trumpet-shaped flowers!! I'm not a fan of Nepeta but when it bloomed alongside the Weigela, it looked quite good. Take a look:
This has been a fabulous Opening Act to summer 2006! Now let's see what happens from here…..